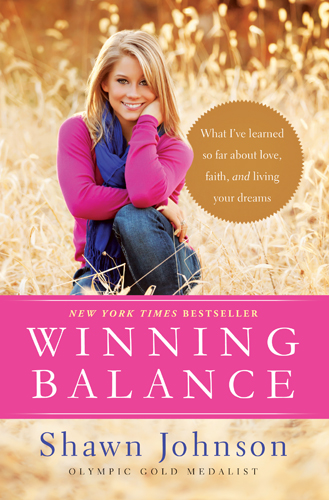 About the Book:
Twenty-year-old American gymnast Shawn Johnson is a four-time Olympic gold and silver medalist; a national- and world-champion athlete. Already a popular role model to all ages, in 2009 she captured the national spotlight again when she won the widely popular Dancing with the Stars. Yet Shawn is no stranger to hard work and adversity. Her loss of the major gymnastics prize everyone expected her to win in Beijing, the all-around Olympic gold medal, was the loss of a dream she'd worked for since childhood. And later, she suffered a potentially career-ending injury in a skiing accident that forced her life to a halt and made her rethink what was really important. She wasn't sure who she was anymore. She wasn't sure what her goals were. And she wasn't sure she was satisfied with where she was with her faith and God. Could she find the right kind of success in life—the kind that doesn't involve medals or trophies, but peace, love, and lasting joy? This is the amazing true journey of how the young woman who won an Olympic gold medal on the balance beam became even more balanced.
About Shawn Johnson:
Shawn Johnson is an Olympic gold and three-time silver medalist in women's gymnastics. She was the 2007 all-around World Champion and the 2007 and 2008 U.S. all-around champion. Shawn won the eighth season of Dancing with the Stars as the youngest competitor in the show's history. She has appeared on Oprah, Today, Late Show with David Letterman, The Tonight Show, and other programs. Shawn earned ESPN's ESPY Award for Best U.S. Female Olympian in 2009; she also won the Teen Choice Female Athlete of the Year Award in both 2009 and 2011.

My Review:
5 Stars
Shawn Johnson was a 2008 Olympic gymnast who won three silver medals and one gold and also captured the heart of America. Her energetic smile, pint size body and precious heart attracted many and know she is here to tell her own story. Her story is not the typical Olympic medalist story at all and its not a chronological autobiography either. Winning Balance is more of a memoir filled with lessons learned and how Shawn learned to keep balance in her life. Nothing about her life was typical but at the exact same time she was your typical American girl. She went to public school, participated in school activities, dreamed about her future, but all while she was doing your typical things she was falling in love with gymnastics. She never thought about going to the Olympics till she was older and thought that it was possible. Through it all she was able to live her dreams and more, but had to re learn many times what it takes to keep balance in her life and what really is important.
I can't even tell you how much I loved this book. To be honest I had never heard of Shawn Johnson before I saw this book was coming out (I missed watching the olympics 2008)and I have always been fascinated with the sport. I just knew I had to read her story and I was not disappointed at all. I fell in love with Shawn and her story and find her raw talent and passion to be so encouraging. Shawn drew me into her story so much that I finished the book within 24 hours! Since reading the book I have enjoyed going on youtube.com and watching her many gymnastic performances and her dances from Dancing with the Stars. I highly recommend this book to anyone who loves gymnastics, wanting to be encouraged by her strength and faith, and anyone who has already loved her and wants to know her story!
Some fun Q & A with Shawn Johnson that I was provided with through Tyndale:
Why did you decide to write a book?
I decided to write a book because so many stories have been covered about me. People always try to
get the story, get the inside scoop. But I don't think anybody's really pinpointed it yet and I wanted to
tell my story from my perspective and tell people the details and behind the scenes stories that they
didn't know—the hardships I went through, the good times I went through—and hopefully inspire
people to do something a little differently and find a passion that can drive them.
Tell us about your book, Winning Balance.
People have kind of fabricated and put this image of who I am together over the years and my
personality and the kind of person I am. This is my way of sharing my story and my journey and my
thoughts instead of having someone else say it for me. I am extremely honest in this book. There are
always things that you share and you need to keep to yourself, but it's a collaboration of my diaries and
journals, and poetry, and good times and not so good times and just sharing all the details.
I, by no means, know everything and I doubt I have even begun to learn anything really. But I feel like I
have some things to share and hopefully something that a younger girl or a grandma can read and take
away from it.
You're going through that same selection process again for the 2012 Olympics. What's it like this time
around?
Going through it the first time and having to live through the reality at the end of the day that you're
going to be lined up and told you are or aren't going, I've kind of accepted it. I learned the hard way for
the first time that you can't get too wrapped up in it because at the end of the day it's what's best for
the team. I feel like I'll take it a little easier this time, but I don't know. It's still nerve wracking because
it's a point of a finger that tells you if your dream's coming true or not.
If you let that one line and that one finger point define the rest of your life, then you're either going to
be crushed or you're going to be made. And if you let that define you, that's not fair. You're worth so
much more than that and I've learned that and I think that'll make it a little better this time. Life moves
on. It always does. And working your entire life for one moment that lasts a minute and thirty seconds,
you have to be okay with the fact that it's just a minute and thirty and as soon as it's over, it's over. And
you have to move on and I think that's what makes it exciting, but makes it nerve wracking because you
put so much into that short ninety seconds.
What role does your faith play in your life?

I think my faith is everything to me. The stress, the pressure, the good times, bad times, everything can
overwhelm you so much that if you don't have someone or something to give it to then you just get
consumed and my faith kind of takes over that role and makes it easier for me to put it all in His hands
and rely on Him and know that it'll all work out in the end somehow.
* I received this book through Radiant Lit and Tyndale, an honest opinion was all that was requested. Thank you both for this wonderful book.