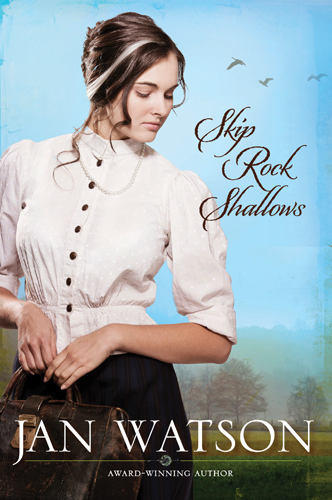 About the Book:
Lilly Gray Corbett has just graduated from medical school and decided to accept an internship in the coal camp of Skip Rock, Kentucky. Her beau, Paul, is doing his residency in Boston and can't understand why Lilly would choose to work in a backwater town. But having grown up in the mountains, Lilly is drawn to the stubborn, superstitious people she encounters in Skip Rock—a town where people live hard and die harder and where women know their place. Lilly soon learns she has a lot to overcome, but after saving the life of a young miner, she begins to earn the residents' trust.
As Lilly becomes torn between joining Paul in Boston and her love for the people of Skip Rock, she crosses paths with a handsome miner—one who seems oddly familiar. Her attraction for him grows, even as she wrestles with her feelings and wonders what he's hiding.
My Review:
4 Stars
Skip Rock Shallows by Jan Watson takes readers into a small coal town where at first the idea of a lady doctor is rejects. Only after saving a young miner she starts to win there trust but even then it is slow and not all want her there. Though there are many residents who become very fond of her and she of them. Throughout the story Lilly faces many battles and wrestles with what to do with the future. Should she stay in Skip Rock or go home to Boston? Then there is the character from her past, who is he and why is he so familiar. Lilly will not only have to face the future but the past as well but she is one strong lady with a trust in God that will help through all she does. Join Lilly and the cast of characters in this fun novel.
This book for me was fun to read and I enjoyed meeting all the residents of Skip Rock but the only thing for me was it never fully drew me in. I was easily able to set it down for awhile and come back to it. I am definitely glad I read it and would recommend it to those who love book about lady doctors in a time where that was not common. Overall good job Jan Watson!
* I received this book through Tyndale for the purpose of this review. My honest opinion was all that was requested. Thank you Tyndale.