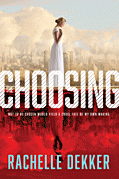 About the Book:
Book 1 in Seer Series
Like all citizens since the Ruining, Carrington Hale knows the importance of this day. But she never expected the moment she'd spent a lifetime preparing for—her Choosing ceremony—to end in disaster. Ripped from her family, she'll spend her days serving as a Lint, the lowest level of society. She knows it's her duty to follow the true way of the Authority.
But as Carrington begins this nightmare, rumors of rebellion rattle her beliefs. Though the whispers contradict everything she's been told, they resonate deep within.
Then Carrington is offered an unprecedented chance at the life she's always dreamed of, yet she can't shake the feeling that it may be an illusion. With a killer targeting Lints and corruption threatening the highest levels of the Authority, Carrington must uncover the truth before it destroys her.
My Review:
5 Stars
Wow, I just loved this book. From page 1 to the final this book kept me up reading late into the night. This is Rachelle Dekker's first book, daughter of the well known author Ted Dekker, and she already set her bar high for what she can do. This book falls under the dystopian fiction category and is just as enjoyable as many of the secular counterparts.
I really loved Carrington in this book. She had a great blend of personality and boldness and wasn't afraid to do what she needed to figure out what is going on. I loved all the twists and turns this book tooka and can not wait till the next one to find out what happens next. The suspense of what is to come is driving me nuts. Don't pick up this book if you have a lot to do because it won't let go!
Great job Rachelle on an excellent debut novel!
*I received this book from Tyndale Blog Network for the purpose of this review. An honest review was all that was expected. Thank You!