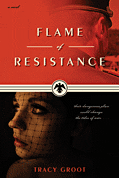 About the Book:
Years of Nazi occupation have stolen much from Brigitte Durand. Family. Freedom. Hope for a future, especially for a woman with a past like hers. But that changes the day American fighter pilot Tom Jaeger is shot down over occupied France. Picked up by the Resistance, Tom becomes the linchpin in their plan to infiltrate a Germans-only brothel and get critical intel out through Brigitte, a prostitute rumored to be sympathetic to the Allied cause.
D-day looms and everyone knows that invasion is imminent. But so is treachery, and the life of one American pilot unexpectedly jeopardizes everything. He becomes more important than the mission to a man who cannot bear to lose another agent and to a woman who is more than just a prostitute, who finally realizes that her actions could change the course of history.
My Review:
Flame of Resistance by Tracy Groot was a book that I was really looking forward to reading and when it came in the mail I couldn't wait to dive in. The book sounded so different then the many others I have read and appeared to have an interesting and intricate plot. I started reading the book rather quickly and soon found out it was going to be a slow read because of the complicated story line. That is a not a huge deal to me, but what ended up happening the further I read the more and more confused I became and just could not get into the story or figure out what was going on. There are many positive reviews for this book out there but I think I came to the conclusion that it was not for me. I do not want to say this was a bad book or anything like that. It is clear that the author took a lot of time researching the history and fine tuning all the details of the book. Like everything in life not everything is for everyone!
*I received this book through the publisher and Radiant Lit, my honest opinion was all that was requested.