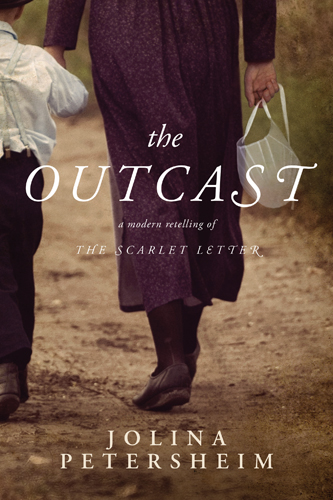 About the Book:
Raised in an Old Order Mennonite community, Rachel Stoltzfus is a strong-willed single woman, content living apart from mainstream society until whispers stir the moment her belly swells with new life. Refusing to repent and name the partner in her sin, Rachel feels the wrath of the religious sect as she is shunned by those she loves most. She is eventually coerced into leaving by her brother-in-law, the bishop.
But secrets run deep in this cloistered community, and the bishop is hiding some of his own, threatening his conscience and his very soul. When the life of Rachel's baby is at stake, however, choices must be made that will bring the darkness to light, forever changing the lives of those who call Copper Creek home.
My Review:
4 Stars
To being as you can see from the cover The Outcast is a modern retelling of the classic The Scarlet Letter, I have not read the classic but I know the general story. I can't say how well it follows the classic but I do know the story is very enjoyable. I found this to be a fast read and had to know how it would all turn out. The biggest issue I have with this book is that the back of the book description gives a little too much of the plot away. Unfortunately it is hard to pick a book to read with out reading the back of the book.
I really enjoyed Rachel and Leah in this book. They are identical twin sisters and have a bond that many wish they had with a sibling. They are pulled and torn in different directions but their love for each other never fails. I also loved Judah in this book he demonstrated a true hero.
In conclusion I recommend this book to all. It is a great story that will pull you in and keep you reading late into the night.