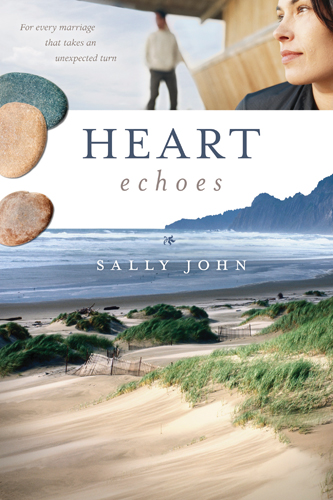 About the book:
In the aftermath of a massive Los Angeles earthquake, the perfect existence Teal Morgan-Adams has built begins to crumble. Teal's daughter, Maiya, is determined to learn the identity of her biological father, despite the loving devotion of her stepdad, River Adams. But that's a secret Teal hoped would remain buried forever. She has never shared the truth with anyone . . . not her family, not River, not even Maiya's father.
As Maiya's rebellion escalates, Teal receives tragic news from her sister and decides to take Maiya home to Cedar Pointe, Oregon, a place she's avoided most of her adult life. But will her already-strained marriage survive the distance and the secrets she'll be forced to face there? And can Teal erase the lies that echo in her heart?
My Review:
Heart Echoes by Sally John is the third book in her Side Roads series but it can be read completely on it's own as well as the other two books in the series. Each book in the series deals with handling and coping with life when things happen that take you of course and you find yourself on a 'side road' of life. This book is something that in a way everyone can relate to, even if you have not dealt with what the characters are we have all had to deal with stuff that was unplanned. This type of book is great because it can help us realize that we all deal with things and no matter how hard things are there is a way out and that God is there for us. I really enjoyed this novel and found it be very interesting from page one. This is definitely a contemporary novel that deals with some hard issues and decisions and is not a simple light read. I know I loved it and look forward to reading other books by Sally John.
*I received this book from Tyndale Publishers for the purpose of this review, my honest opinion was all that was requested.