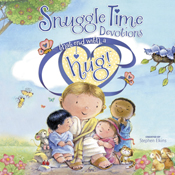 About the Book:
Children will grow in their understanding of faith and look forward to spending time with God as they read, play, hug, and get inspired through these 52 heartwarming snuggle time devotions. Along with the short devotional reading and Bible story, each snuggle time moment features a game or activity to help kids remember the lesson and tuck it away in their heart. This book will get you and your child talking together, laughing together, and hugging together! It's a great way to strengthen your parent-child relationship while introducing young children to the joys of spending time with God. It's also an effective resource for helping to shape behavior and for teaching kids biblically based life principles.
My Review:

4 Stars
Such and adorable little devotional for young kids. This is a great book for 2-4 years old and a way to establish devotion time. It is broken into 52 devotions which is nice since it works great as 1 a week, and repeating that 1 throughout the week since little kids learn by repetition. The illunstrations are just adorable and will delight children and adults alike. I love that it includes bible reference so its easy to pull it up and show kids where in the Bible it is and teach them the importance of everything being tied back to the Bible. The only think I didn't love about this book is the activities, many didn't seem to tie well and many just awkward and time consuming. Not something that we would do at night when many do devotions.
This is just one of a few books in the End with a Hug series and its just as cute and good as the others. This is a great book for those with young children or who interact regulary with them.
* I received this book through Tyndale Blog Network for the purpose of this review. Thank You!