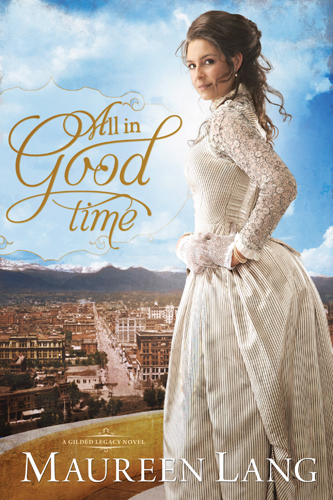 About the Book:
Dessa Caldwell has a dream: to open Pierson House, a refuge for former prostitutes in Denver's roughest neighborhood. But after exhausting all charitable donations, Dessa still needs a loan, and nearly every bank in town has turned her down. Her last hope hinges on the owner of Hawkins National Bank.
Henry Hawkins has a secret: though he owns the most successful bank in town, his initial capital came from three successful raids on Wells Fargo coaches. Now he's the most eligible bachelor in Denver, but to protect his criminal past, he's built a fortress around his heart. Not even the boldest matchmaking mother can tempt him . . . until the day Dessa Caldwell ventures into his bank requesting a loan.
Though he's certain her proposal is a bad investment, Henry is drawn to Dessa's passion. But that same passion drives her to make rash decisions about Pierson House . . . and about whom she can trust. One man might hold the key to the future of her mission—but he also threatens to bring Henry's darkest secrets to light. As the walls around their hearts begin to crumble, Henry and Dessa must choose between their plans and God's, between safety and love.
My Review:
5 Stars
What a fantastic story! Maureen Lang does a great job at weaving the lives of Henry Hawkins and Dessa Caldwell together, both impulsive, stubborn and in need to learn the same lessons. I thoroughly enjoyed this book and dived right in as soon as it came in the mail. It didn't take me long to read at all! I just loved Dessa and her determination to help woman and young woman out and get them out of bad situations. She didn't just want to give them a hand out but a hand up and teach them skills and show them that God loves them. This is not an easy thing for a woman to do back then and in many ways is still a hard thing.

This is part of the Guilded Legacy series but can be completed read on its own, there really is no connection to the first book. The characters and setting and completely different. II personally think this book is a lot better than Birds in the Butterfly Garden, the first book in the series. I highly recommend this book to anyone who has enjoyed Maureen Lang's other books and historical romance in general. You can't go wrong with this book and the cover is beautiful!

*I received this book from Tyndale for the purpose of this review.