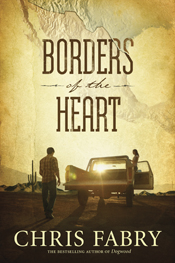 About the Book:
Desperate to escape haunting memories, J. D. Jessup travels from Nashville to Tucson and volunteers on an organic farm. The hardened landowner has one prevailing rule: If J. D. sees an "illegal," call the border patrol. But when an early morning ride along the fence line leads him to a beautiful young woman named Maria, near death in the desert, his heart pulls him in another direction. Longing to atone for the choices that drove him to Tucson, J. D. hides her and unleashes a chain of deadly events he could never have imagined. Soon they are running from a killer and fighting for their lives. As secrets of their pasts emerge, J. D. realizes that saving Maria may be the only way to save himself.
My Review:
4 Stars
Borders of the Heart
is the third book I have read from Chris Fabry and while I really did enjoy it I am not sure I would call it my favorite. It had a slow start and then had many periods that would drag, but the overall plot was interesting even though predictable. I loved the concept of how one choice can change so much and put you on a path that you didn't even know existed. Chris Fabry is a fantastic storyteller and has the ability to write in different settings and craft unique stories. All of his books tend to have the theme of redemption, but that does not make them all the same at all. I will say this book is not light and fluffy, but it is not so deep and dark that it is depressing. It truly is part thrill ride and part romance which makes for a great combination. I would highly recommend this book to anyone that wants something different to read, has read Chris Fabry book's before, or anyone looking for a good story.
* I received this book through the Tyndale Blog Network for the purpose of this review. Thank You!