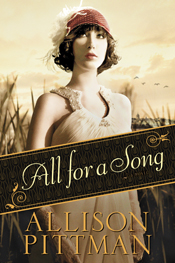 About the Book:
Dorothy Lynn Dunbar has everything she ever wanted: her family, her church, her community, and plans to marry the young pastor who took over her late father's pulpit. Time spent in the woods, lifting her heart and voice in worship accompanied by her brother's old guitar, makes her life complete . . . and yet she longs for something more.
Spending a few days in St. Louis with her sister's family, Dorothy Lynn discovers a whole new way of life—movies, music, dancing; daring fashions and fancy cars. And a dynamic charismatic evangelist . . . who just happens to be a woman. When Dorothy Lynn is offered a chance to join Aimee Semple McPherson's crusade team, she finds herself confronted with temptations she never dreamed of. Can Dorothy Lynn embrace all the Roaring Twenties has to offer without losing herself in the process?
About the Author:
Award-winning author Allison Pittman left a seventeen-year teaching career in 2005 to follow the Lord's calling into the world of Christian fiction, and God continues to bless her step of faith. Her novels For Time and Eternity and Forsaking All Others were both finalists for the Christy Award for excellence in Christian fiction, and her novel Stealing Home won the American Christian Fiction Writers' Carol Award. She heads up a successful, thriving writers group in San Antonio, Texas, where she lives with her husband, Mike, their three sons, and the canine star of the family—Stella.
My Review:
5 Stars
Loved this book! This has been easily a favorite book of mine and one I will be re reading in the future, it has earned a permanent place on my bookshelf. As soon as I heard Allison Pittman had a new book coming out I could not wait to read it. I have read many of her books and loved them all. I really enjoy reading books set in the roaring '20's since that decade is such a mark of change and the struggles faced back then were very hard and really start to mark a more modern era. Life really started to change from the simpler olden days.
All for a Song is tells a powerful story of Miss Dorothy Lynn Dunbar and really is a story of growing up and finding God's plan. She struggles with the more modern things of the city with her simple country childhood and is torn for much of the story of where she fits and what life she is suppose to lead. I found it interesting how Allison Pittman weaved in the real life charismatic female evangelist Aimee Semple McPherson and loved the the blend of fiction and non-fiction.
In conclusion, I highly recommend this book to everyone who loves historical s set in the '20's. I will warn though that this book really is not a romance story at all but much more of a coming-of-age story filled with so much that will leave you turning the pages long after the lights go out. Great job Allison Pittman on a fantastic novel.
*A copy of this book was provided by the publisher for free in exchange for an honest review.
For more information check out:
1. The Authors website: www.allisonpittman.com
-and-
2. Questions and Answers with the author: http://mediacenter.tyndale.com/downloads/press_kits/ASAuthorQA.pdf