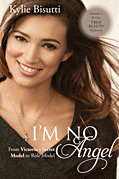 About the Book:

Genre: Biography/Memoir
In December 2011, 21-year-old Victoria's Secret Runway Angel Kylie Bisutti stunned the fashion industry when she chose faith over fame and fortune and made the switch from supermodel to role model.
In I'm No Angel, Kylie shares her story—from her early years as she struggled to make it big in the cutthroat world of modeling, to her "big break" winning the Victoria's Secret Runway Angel competition, to the disillusionment and spiritual warfare that followed. After finally realizing that she could no longer reconcile her career with her Christian beliefs, she surrendered her life to God and dedicated her life to preaching a message of modesty and inner beauty.
Along the way, Kylie talks about her personal struggles with inadequacy, low self-esteem, and her near-constant quest for approval in a world where you can never be thin enough, pretty enough, or sexy enough. She helps readers understand that true beauty lies within and that real fulfillment comes from knowing, loving, and serving Christ.
My Review:
4.5 Stars
Wow, what a fascinating and eye opening story. Kylie just wants to pursue her dream of modeling and follow Jesus but as you would guess those two goals can be rather conflicting. Throughout her career she faces many challenges, deceit and situations that would make most of comfortable. Through her journey she learned that the industry is ruthless and will say whatever they want to keep their image, even at the expense of the models. I found it interesting hearing what it take to be a VS angel and the role they must place. To be honest it has made me never want to support the company in any way. I hope many will read this book and have their eyes opened wide to this industry and more.