Still Lolo by Lauren Scruggs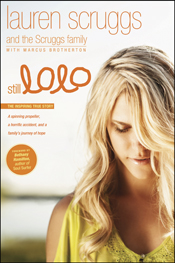 About the Book:
In December 2011, Lauren ("LoLo") Scruggs, a 23-year-old fashion journalist, suffered a sudden injury that made headlines around the world. She had been on a short flight to look at Christmas lights and, upon exiting the small plane, was hit by the still-moving propeller blade. A frantic 911 call, several major surgeries, and thousands of prayers later: Lauren lived. But she lost her left hand and left eye. And she had to face some incredibly difficult questions: What kind of future will I have? Where is God in all this pain? Will anyone ever be able to love me now? In Still LoLo, Lauren speaks out for the first time since her accident. She and her family reveal what really happened that night, what Lauren's life is like today, what got them through their journey toward healing, and how they conquered all odds to persevere as a family. It's a compelling and fiercely beautiful story of faith, determination, and staying true to who you are—no matter what.
My Review:
4 Stars
What an inspiring story that is written from the heart. I found this to be a fast read that was uplifting and encouraging without being preachy. I absolutely loved how it is written from not only the view point of Lauren but also from her family and it doesn't just deal with the accident and how she handled it, it also told the story of her and her twin growing up and how it shaped her to be who she is today. Without her past, the way she handled the accident may have been totally different. I loved how the message is that Lauren is still the same person even if physically she has some scars and challenges to overcome. At the end of the day what makes Lauren Lauren is still the same.
This is a short, a little over 200 pages read that so many people could love and be inspired by. This book will make you want to meet her and hear her story right from her own mouth. I highly recommend this book to everyone who like a good memoir/biography type book and wants to be encouraged that God uses you just as you are and He uses your trials to help others.
*I received this book from Tyndale for the purpose of this review.