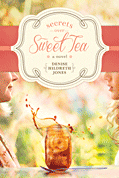 About the Book:
Secrets can be funny things. We think they keep us safe, but more often than not, they spill out when we least expect and make a mess out of everything. It's a truth Scarlett Jo Newberry knows all too well—a truth Grace Shepherd and Zach Craig are about to learn the hard way. As the lives of this boisterous pastor's wife, polished news anchor, and beleaguered divorce attorney intersect in the tree-lined streets of Franklin, Tennessee, scandal threatens to topple their carefully constructed worlds. Grasping at survival, they embark on a journey of friendship and courage, desperate to find a way back to laughter, love, and life.
My Review:
5 Stars
I just love Denise Hildreth Jones' books, I have read many of them and find them to have so much depth and character development that I am just drawn into the stories and find myself sad when they end and I have to leave the people behind. I absolutely love how real her stories are and feel like they can actually happen and this book is no exception.
I loved all the characters in this book, they each carried their own personality. Scarlett Jo would crack me up all the time, she is the type of person that would intimidate me in real life but on the pages of a book she is just plain funny. There are characters I loved from the beginning and others that took some time for them to grow on me. It was such a journey seeing their lives intersect and see how they can be there for each other. This book is truly southern fiction at its best.
I think this is one of Denise's best books yet and thoroughly look forward to reading more in the future. This is a great book to thoughs that love southern fiction, lots of drama, and real raw emotion.
*I received this book from Tyndale through RadiantLit for the purpose of this review. Thank you!