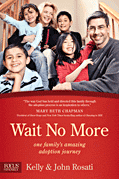 This book is about one family's journey as they adopt four children from the United States Foster care system. It is a journey of both joys and challenges, it is a journey that many will never take but those that do are extremely blessed by God. Adoption is something that should not be taken lightly and it will change your life in every aspect but it is truly a blessing for both the family and children. This book gives the reader an honest look at the foster care system as well as the process and life after all, and it is not easy but with God by their side they made it through!
I enjoyed reading this book and found it encouraging hearing their story. I had read book about adoptions over seas but never from our own foster care system and it was nice being able to see another side of adoption. The United States has so many children that need a home and someone to love and just not enough people out there willing to be that person. I would recommend this book to anyone that wants a look into our foster care system, who would like to adopt or those who need encouragement during their adoption journey.
*This book was provided to my by Tyndale in exchange for my honest review!