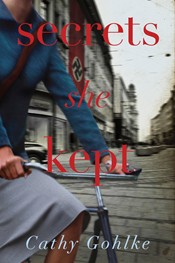 About the Book:
All her life, Hannah Sterling longed for a close relationship with her estranged mother. Following Lieselotte's death, Hannah determines to unlock the secrets of her mother's mysterious past and is shocked to discover a grandfather living in Germany.
Thirty years earlier, Lieselotte's father is quickly ascending the ranks of the Nazi party, and a proper marriage for his daughter could help advance his career. Lieselotte is in love—but her beloved Lukas is far from an ideal match, as he secretly works against the Reich. Yet Lieselotte never imagined how far her father would go to ensure her cooperation.
Both Hannah's and Lieselotte's stories unfold as Hannah travels to Germany to meet her grandfather, who is hiding wartimes secrets of his own. Longing for connection, yet shaken by all she uncovers, Hannah must decide if she can atone for her family's tragic past and how their legacy will shape her future.
My Review:
5 Stars
If you have read a Cathy Gohlke book in the past you know how powerful her stories are and how well researched they are too, well her newest book lives up to it and so much more. I think this is easily the best book I have read from her. I was so sad when the story ended since I was invested in it. I just loved the mix of the past and the present and Cathy did an amazing job at weaving them together. Lieselotte's story was just so good and sad but kept me turning the pages late into the night. All the twists and turns kept the story alive and Cathy did an amazing job at painting the scene and making it seem like you were right in the story.
Lovers of historical fiction and WWII also will just love this book. If you have never read a Cathy Gohlke book then grab this one and find out what makes this author so good!
*I received this book through Tyndale Blog Network for the purpose of this review.