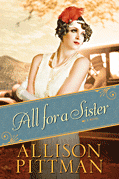 About the Book:
Genre: Historical
In Hollywood during the Roaring Twenties, Celeste DuFrane has it all. Her father's work with color movie film opens doors that lead to the stardom she's always aspired to. But after losing her mother, she discovers that half the estate has been left to a woman accused of killing Celeste's baby sister before Celeste was even born.
Dana Lundgren arrives on the steps of the DuFrane mansion having spent most of her life imprisoned for a crime that never happened. After accusing her of murder so many years ago, why did Marguerite DuFrane leave her a sizeable inheritance?
As Celeste and Dana learn each other's stories, they come up with more questions than answers. Then a surprising discovery begins to fill in the missing pieces: Marguerite DuFrane's written confession, penned shortly before her death. Uncovering the treachery and deceit that changed the course of countless lives—most of all, their own—the two women find more than they ever dreamed of.
My Review:
4 Stars
All for a Sister is Allison Pittman's third book in her series set in the 1920's. Each book is completely stand alone but are all set in the same decade. I loved the first book in the series the best, All for a Song. This book was my second favorite in the series.
I really enjoyed aspects of this story but found all the jumping around very hard to follow at times. I loved hearing the story of the past versus what was happening in the present (as in 1925). Both Dana and Celeste are fun characters that have a unique connection. I felt bad for Dana for things she went through that wasn't her fault. I found all the connections to be fun and the biggest reason I kept on reading.
Overall a fun book with a different writing style with some fun twists. Not necessarily my favorite book out there but not a waste of time either.
*I received this book from Tyndale Blog Network for the purpose of this review. Thank You!