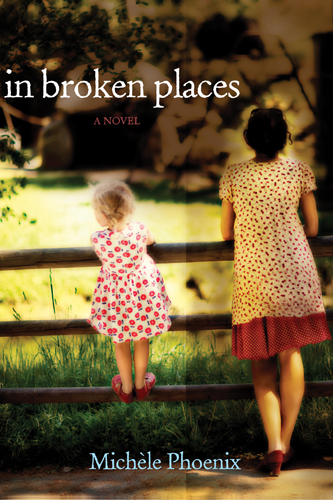 About the Book:
Shelby's life isn't glamorous, but it is predictable—and that's the way she likes it. A survivor of her father's violence, she has spent a lifetime creating a safe existence devoid of dependence. But her carefully managed world begins to break when, under staggering circumstances, she becomes a single mother to four-year-old Shayla. In a drastic attempt to escape her childhood's influence, Shelby moves to Germany, but she quickly discovers how intimately linked memory and healing are—and how honestly she must scrutinize her past in order to aspire to a richer future. As she juggles a new job, a new culture, a new daughter, and the attention of an enterprising man, Shelby's fresh start becomes a quest for the courage to be not only a survivor, but someone who prevails.
My Review:
5 Stars
In Broken Places is the first book I have read by Michele Phoenix and it won't be last. I know I have her last years release, Tangled Ashes, sitting on my kindle to read and I can't wait to find the time to read it.
Michele Phonix wrote a gripping tale weaving hurt, bitterness, hope and so much more into this book. I really felt like I could feel the characters emotions and really wondered what I would do in her situation. Shelby has built wall upon wall to protect herself after years of abuse from her father and that all starts to breakdown when she becomes a single mother to a sweet four year old who's life is also turned upside down. I loved watching Shelby grow, mature and find healing and forgiveness, which is the only way to move forward.
This is a great book packed with powerful emotions that will leave you wanting for more and thinking well past the last page. I highly recommend this book to anyone brave enough to face real emotion and a deep story. This is not a light fluffy read and in my opinion makes it so much better. Great job Michele on an outstanding book!
*I received and ARC from the author for the purpose of this review. Thank you!