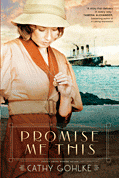 About the book:
Michael Dunnagan was never supposed to sail on the Titanic, nor would he have survived if not for the courage of Owen Allen. Determined to carry out his promise to care for Owen's relatives in America and his younger sister, Annie, in England, Michael works hard to strengthen the family's New Jersey garden and landscaping business.
Annie Allen doesn't care what Michael promised Owen. She only knows that her brother is gone—like their mother and father—and the grief is enough to swallow her whole. As Annie struggles to navigate life without Owen, Michael reaches out to her through letters. In time, as Annie begins to lay aside her anger that Michael lived when Owen did not, a tentative friendship takes root and blossoms into something neither expected. Just as Michael saves enough money to bring Annie to America, WWI erupts in Europe. When Annie's letters mysteriously stop, Michael risks everything to fulfill his promise—and find the woman he's grown to love—before she's lost forever.
About the author:

Cathy Gohlke is the two-time Christy Award–winning author of the critically acclaimed novels Promise Me This, William Henry Is a Fine Name, and I Have Seen Him in the Watchfires, which also won the American Christian Fiction Writers' Book of the Year Award and was listed by Library Journal as one of the Best Books of 2008.

Cathy has worked as a school librarian, drama director, and director of children's and education ministries. When not traipsing the hills and dales of historic sites, she, her husband, and their dog, Reilly, make their home on the banks of the Laurel Run in Elkton, Maryland. Visit her website at www.cathygohlke.com.
My Review:
A sweeping adventure over two continents and a promise to fulfill bring excitement, tears, romance, and more to this outstanding book by Cathy Gohlke. This book was amazing, I loved every minute of it. Cathy Gohlke did a great job at making me feel like I was right there. It brought WWI to life in a way most books don't and I could feel the emotions the characters were going through. I will say it makes me feel blessed to have not had to live through WWI or WWII. While this book has a section about the Titantic it really was the small part of the story. I loved Micheal's determination to fulfill his promise to Owen and loved Annie and it was heartbreaking seeing the things she had to endure. This story reminds me of the third Anne of Green Gables movie and anyone who has seen it and enjoyed will love this book. This book has easily became a favorite that will be re-read many times. Final rating: 5 out of 5 stars.
*I received this book through Tyndale in exchange for my honest review. Thank you Tyndale!